Just once such evening, when they had come back home from the Flower Park, tired but happy, Silkie said, "I can't understand it. I was so cold this evening. I also feel much more tired than usual."
"You just need to get some sleep," smiled Roselil, putting an extra leaf around her friend before she herself lay down to rest.
When Roselil awoke, it was still totally dark. She was so cold that she was shivering and so she gave up trying to get back to sleep. She wrapped some extra leaves around her shoulders and climbed out of her sleeping rose to find out why it was so cold. When she stepped out on the green leaves beside the flower, she slid and had to hurry to open her wings so as not to fall down among the thorny branches.
She landed in the grass beside the bush in a confused state. It was completely white, stiff and cold. She touched the cold, white layer in wonder. It disappeared at her touch and the blades of grass became soft and green again.
Daylight slowly began to gain strength and she looked around. Everything was covered in the stiff, white dust. She looked up at her roses and gasped in alarm. The flowers hung limply down, as they did just before they lost their leaves. Usually there were just a couple at a time that withered, but now it looked like the whole bush was about to die, not only the flowers, but also buds and leaves.
In fright, she shouted into the mouse hole.
"Mr and Mrs Mouse, Karl Gustav, Frida!

"Hurry out here. The most terrible thing has happened."
A moment later, the whole mouse family stood before her in nightdresses and nightcaps.
Mr Mouse fumbled with his spectacles and stammered, "But Ms Roselil, what has happened?"
Roselil was on the verge of tears.
"Look, all my flowers have withered! And look, the stiff, white frills have covered both grass and branches. Have the trolls bewitched all Summerland?"
Mrs Mouse looked around, a little confused. But Frida just smiled and put an arm around Roselil.
"Now, now, little miss. Just take it easy. It's just that autumn has arrived. I heard some old mice chatting about it. It's not at all dangerous."


"Yes, but… but all the flowers are dead! It's awful," sobbed Roselil.
"New ones will return. In a few days, winter

will be over. Then everything will once more be pale green and beautiful. Totally fresh and delightful. You don't have to be so unhappy. It will all be fine again."
Roselil looked at the mouse family, who smiled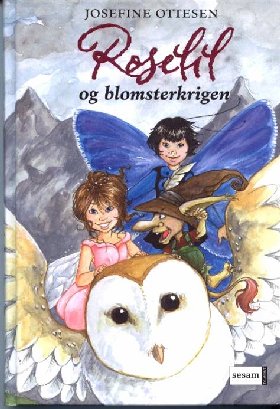 Illustrated by Pernille H. Jensen
encouragingly at her. They all knew the stories about the infrequent winters.
Frida smiled and said, "And tomorrow it will certainly snow. Then we can toboggan and skate on the ice on the puddles. I've never done that before."
"But it's so cold," objected Roselil hesitantly.
"Yes, so come and get some warm socks and warm jumper," said Mrs Mouse and took Roselil with her into the dark mousehole, which was lit by swirling fireflies.
When she came out again, she wasn't cold anymore. She looked with interest at all the whiteness that sparkled like pearls and diamonds in the rising sun. She flew up to wake Silkie, but the blue butterfly slept so deeply that it was impossible to rouse her.
Anxiously, Roselil flew down again to Frida and Mrs Mouse, who were taking the opportunity to beat the carpets and quilts in the clear, frosty air.
"Oh, she'll wake up again when it gets warm. Butterflies hibernate in the winter, that's common knowledge," said Frida, beating so energetically on a carpet that she was up to her ears in dust.